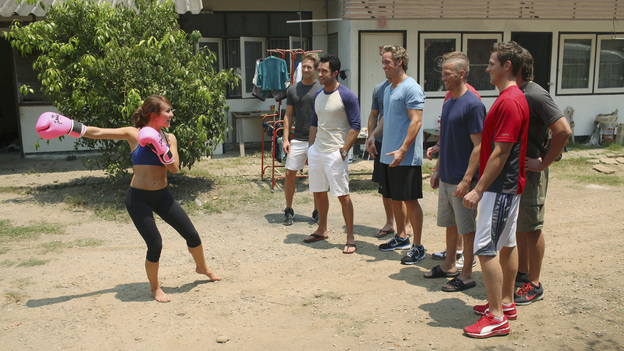 Get your fighting gloves on! This week I don't particularly feel like writing about Ms. Bachelorette Ashley. She has become so whiny so annoying and so pathetic that I don't even really care if or when she finds love. I will continue to watch if anything as a cautionary tale for woman to see that it's really not a good idea to conjure up fake relationships and feelings in your head. Ashley has created a completely fake relationship between herself and a man that does not care one inch about her. She has somehow made herself believe that Bentley cares for herself and is demanding Chris Harrison to fly this man to Hong Kong so that she can be given some type of closure. Really Ashley it wasn't enough closure for you when he voluntarily left the show, and you cried for what two weeks now? Really? We need to go through another two hour episode watching you cry your eyes out over a playboy that probably doesn't even know your last name or cares to. Maybe ABC has gone too far on this one, it's a whole new level of embarrassment, and it's become way too harsh.
Hopefully after next Monday's episode it will be the end of Bentley, but once again one can only hope. According to countless magazine covers and online interviews, apparently Ashley claims she is very happy, in love, and engaged. There might just be a rainbow at the end of this tearful rain storm after all. On a side note, this bachelorette has been given un
argumentatively
the best looking group of men ever in the show's history, and not only are these men good looking, but they have strong promising careers, and good hearts. Especially Ben F and JP, who to me seem so sincere and honest good guys. Because of this it's especially frustrating to see Ashley just ignore them and throw them to side because Bentley is on her mind, or Bentley is coming back. It's hard to understand why these men didn't pack their bags and leave, especially after the way she's placed them as a collective group a very far 2nd after Bentley.