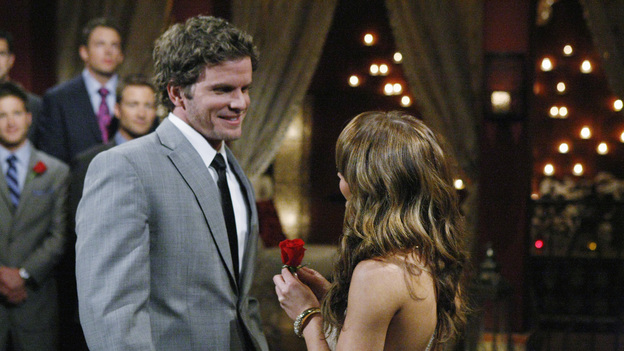 I wasn't up to speed last week with the bachelorette; I was in New York for the long holiday weekend and was not able to pre-show post. Though my flight landed late and I got home late at night, I could not fall asleep without watching, the first thing I did when I got home was turn on my tivo. This week I'm completely ready for episode 3, and to watch Ashley as she continues on her journey for love. Ashley has 15 men left to choose from, and these are some of the hottest men I have ever seen on any season of the bachelorette. Don't hate me for saying this - but that last statement has me a little worried regarding the staying power of Ashley's final choice and relationship. I just personally believe that in almost every relationship, the lady should be just a little bit prettier than the man (just my opinion, don't throw stones at me) so maybe these men are just a little bit too cute for Ashley. Besides that I already know my heart is going to break for Ashley tonight. I will have the tissues close by, as I watch Bentley become the ultimate Bachelor/Bachelorette villain as he tears out Ashley's heart and stomps on it. I know I know it's going to be hard to stomach, but I have a feeling he is only going to make himself look bad. I mean honestly what girl in her right mind is going to want to have anything to do with Bentley after tonight's show. Here's a sneak peak from abc.com:
http://abc.go.com/shows/the-bachelorette/video-detail/featured/bentley-night-3-sneak-peek/pl_PL5556208/vd_VD55129560
From my top 5 favorites still around are William, Ryan P and Ben C. William is charmer as he proved last week, and a good sport that will go along with any situation, always a good characteristic. Ryan P, and Ben C have not gotten much air time at all, maybe tonight we will get to see some more of them. I have added a new front-runner who is my #1 favorite and that is JP. WOW this man is handsome. If I was the bachelorette no way I would ever leave a date with JP up to a coin toss, come on! Ashley better get on that, that's all I have to say about that. Come back tomorrow for all my after-show thoughts.